Obituary for Benito Huerta Lozano
He was 15 when he opened his first business: a makeshift hamburger stand across the highway from the sun-baked cotton fields of Robstown, Texas.

The bread man assured him he wouldn't need all the merchandise he had ordered. He was just a kid and didn't know what he was doing. But the young Benito Lozano knew this: He had picked the right location.

"When the cotton pickers crossed the road in the afternoon, tired and hungry, they could smell the onions on the grill," he said. "Hell, on my first day I ran out of hamburger buns and had to run to the Piggly Wiggly to get some more."

Lozano, a proud and loving father of nine children who never graduated from high school but through his own enterprise and hard work enjoyed a long and successful business career, died Nov. 10 at a nursing home in Houston. He was 92.

His was an unconventional life, and he preferred it that way. He was a barber, a boxing promoter, a restaurateur and, in an only-in-America twist, an immigrant turned immigration consultant who made money helping others obtain their citizenship through the federal government's amnesty program of the 1980s. His heroes reflected his ideals: Joe Louis (a man's man), Rudolph Valentino (a lady's man) and Franklin Delano Roosevelt (America's man).

For much of his life, he carried these few treasured items in his wallet: his 1950s-era poll tax receipt (evidence of the racism he experienced throughout his life); a picture of himself as a dangerously handsome man in his 20s; a $2 bill for good luck; and a piece of scrap paper with his personal philosophy scribbled on it: "The greatest risk in life is the one not taken."
He was self-made and self-possessed, proud of blazing his own trail, of being an American and a Korean War veteran and, of course, his many business ventures.

"I'm like Frank Sinatra," he liked to boast. "I did it my way."

Born Benito Refugio Huerta Lozano in Monterrey, Mexico, on July 4, 1926, to Josefa Lozano and Florencio Huerta, he was the youngest of four children. He was still an infant when his parents divorced and his mother took him and his brother and sisters to live in Texas. He liked to tell the story about how his mother carried him across the border on a pillow stuffed with cash -- money made from the sale of a house his uncle had won gambling.

The family settled first in Kingsville and then Robstown, a small farming town near Corpus Christi. His mother, a former schoolteacher who never learned to speak English, supported the family by opening a string of Mexican restaurants. She was successful, and the family lived a solid middle-class life in a two-story house off Main Street during the worst period of the Depression.

Naturally curious and ambitious, Lozano learned quickly as he watched his mother work. He was the only child to master English and in his early teens took a more active role in the family business, shrewdly advising his mother to increase her prices and supplies of coffee, beans and other staples before wartime rationing took hold.

"I always had a good mind for business," said Lozano, whose calling card years later was emblazoned with the credo: "A fast nickel is better than a slow dime."

It was in Robstown where his dreams and ambitions took shape. This is where he learned about the rewards of being his own boss. Where he learned to box and fell in love with the sport listening to Joe Louis' fights on the radio. And where he had his first brush with history, when President Roosevelt and Mexican President Manuel Avila Camacho paid a brief visit during a whistle-stop tour in 1943.

For a Depression-era kid, FDR was the real deal and epitomized America's can-do spirit as it entered WW II. "If he were alive today," Lozano liked to joke years later, "he would still be president."

A romantic, his passions included big band music and ballroom dancing, popularized in the films of the '30s and '40s. He was particularly inspired by the style and dress of Valentino, Hollywood's first male sex symbol, who was known for his expert skills on the dance floor, especially the Tango.

In 1950, Lozano joined the Army and served a brief tour in Korea, where he was wounded and earned two purple hearts. Upon his return, he married Delfina Valdez in Corpus Christi. The couple had five children before moving in 1965 to Houston, where their remaining four children were born.

Over the course of his life, Lozano would own and operate more than a dozen barbershops and restaurants, including Taquitos Cafeteria and Chito's World's Best Fried Chicken. He also pursued his passion for boxing. His fighter Porfirio "Blackie" Zamora became Texas lightweight champion in 1964. He also helped train Robstown's Humberto "Lefty" Barrera, who went on to compete in the 1960 Olympics in Rome alongside another young fighter by the name of Cassius Clay.

"When I look back, I feel proud of what I accomplished," Lozano said of his life. "I did everything I wanted to do."

A Memorial Service will be held from 5:00 p.m. to 8:00 p.m. on Thursday, Nov. 29, in the Miller Funeral Chapel, 7723 Beechnut Street, Houston, TX. A Funeral Service will follow at 11:30 a.m. on Friday Nov. 30, at Houston National Cemetery, 10410 Veterans Memorial Drive.
Family requests in lieu of flowers donations be made to Houston National Cemetery, which provides assistance to veteran's families.

Lozano is survived by son Benito Huerta and daughter-in-law Janet Chaffee; daughter Susana Monica and granddaughter Nickelle Monica; daughter Yolanda Lozano, partner Eddie Powell, granddaughter Samantha and grandson Daniel Powell; daughter Leticia Lozano and son-in-law Jeff Roberts; son Carlos Valdez Lozano; son James Daniel Lozano, daughter-in-law Vicky Lozano, granddaughters Andreana and Juliana, and grandsons Jonathan and Andrew; son Jonathan David Lozano, and partner Kevin Kreinbring; daughter Linda Christina Steptoe, son-in-law Derrick Steptoe and granddaughter Brittnay Eckwood, who is expecting his first great-grandchild; daughter Lisa Lozano Reyna, son-in-law Edward Reyna, granddaughter Christine and grandson David. He is also survived by his brother Armando Garcia and sister-in-law Pauline; sister-in-law Petra Lozano; brother Abel Garcia and sister-in-law Emma.
To send flowers or a remembrance gift to the family of Benito Huerta Lozano, please visit our Tribute Store.
Previous Events
Visitation
Miller Funeral Services
7723 Beechnut St
Houston, TX 77074
Cemetery Details
Location
Houston National Cemetery
10410 Veterans Memorial Drive
Houston, Tx 77038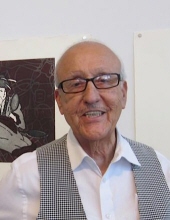 Thank you for sharing your
memory of Benito
Provide comfort by sending fresh
flowers from our local florist.
No thanks, please don't show me this again.